At the beginning of every month, we work to compile statistics related to market activity within Toronto and the GTA.

---
MARKET SNAPSHOT - JULY 2022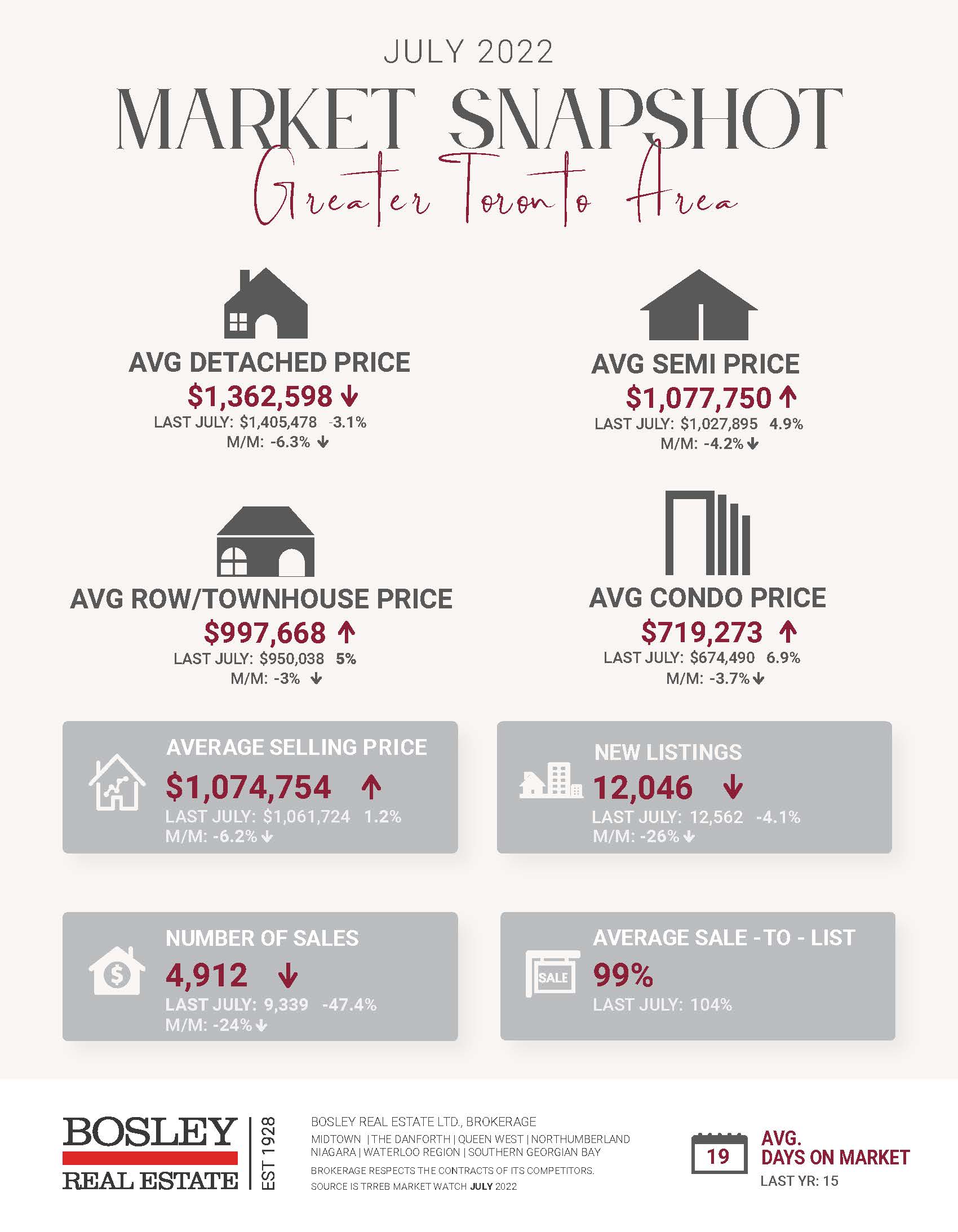 MARKET INSIGHT FOR THE WEEK ENDING AUG. 5, 2022
Canada's Tax Authority Has Been On A Multi-Billion Dollar Real Estate Crackdown!
Canadian real estate owners are stuck paying huge penalties after trying to avoid taxes owed.
New data from the Canadian Revenue Agency (CRA) shows their crackdown on real estate owners/sellers has led to billions in recouped revenue. Data provided by the agency also shows they've collected substantial fines adding up to hundreds of millions, after diving into real estate transactions. The program is largely focused on Greater Toronto and Vancouver, as a high volume of red flags were being set off.
The CRA has been on a mission to crackdown on real estate tax evasion, especially in Ontario and BC. Red flags they're looking for include:
Property flippers: People who regularly flip property for income without properly disclosing the funds might get a second look.
Unreported capital gains: Sold property and didn't declare? That's a problem, even if taxes aren't owed.
Unreported worldwide income: Have cash coming in from outside of the country? If the CRA finds hints of it and you haven't told them where it's coming from, they might have some questions.
Unreported GST/HST on a new or substantially renovated home: Built a new home on a lot and sold it? You were supposed to collect GST/HST. Ditto in some cases where owners "substantially renovate" a property before selling it (think gutting it and leaving a shell, probably not just adding a new kitchen).
Lifestyle Assessments: If the owner is rolling in a high-value home and there's a big gap between income and the payments, the CRA might want a second look. There are other flags as well since the agency can correlate data, but those are the big ones they mentioned.
Just in Ontario and BC. From April 2015 to March 2022, the CRA's real estate crackdown produced $2.2 billion in audit assessments. Included in that amount was $298.9 million in penalties for nonpayment. The audit assessment values are split into three major categories: Income tax, GST/HST, and GST/ HST New Housing and new residential property rebates. Ontario and BC both showed about $1.1 billion in audit assessments respectively, but for very different reasons.
Ontario's audit assessment included $147.6 million of income tax, and another $332.2 million GST/HST. Most of the value was in GST/HST New Housing and new residential property rebates, coming in at $662.9 million for the period.
The tax authority says they primarily focus on Greater Toronto and Greater Vancouver. Pricey real estate combined with high transactional value, and aspiring investors that might not know the rules are concentrated in these regions. The recent real estate boom and our recent dive into property registry data shows a huge investment surge across the country, perhaps resulting in wider crackdowns.
ABOUT BOSLEY REAL ESTATE LTD., BROKERAGE
Bosley Real Estate Ltd. is a full-service, 4th generation brokerage operating since 1928 with offices serving the Greater Toronto Area, Niagara, Waterloo Region, Southern Georgian Bay and Northumberland. With over 250 agents in residential and commercial real estate, the firm has built a reputation on trust, respect and integrity selling and leasing property throughout Ontario. Bosley Real Estate is also recognized internationally through an exclusive affiliation with Leading Real Estate Companies of the World®. This prestigious partnership connects the brokerage to a global network of 130,000 real estate professionals in 70 countries. Headquartered in Midtown Toronto, President and Broker of Record, Christan Bosley continues to innovate and maintains the high standard of excellence forged over a century.
HERE ARE THE TOP FIVE TRENDING STORIES OF THE WEEK:
Toronto home sales have dropped by nearly 50% but prices aren't following suit
"With only 4,912 homes sold throughout the entire Greater Toronto Area in July of this year — some 47 per cent less compared to July 2021 — the predictions of real estate experts and analysts continue to play out as promised. For better (in the case of some buyers) or worse (sorry, sellers)."
Canadian Cities Where You Can Still Buy a Home on a Single Income
"It's no secret that households all across Canada are struggling to afford a home right now, even those with a dual income. So when it comes to single-income households that are looking to buy, the options are even more limited — but not non-existent."
Testimonials
" We can't thank Christin enough for helping us find the perfect condo in Toronto. Her understanding of our specific needs and preferences and her knowledge of the city were invaluable. When we were about to lose hope of finding just the right place, she never gave up. Thank you, Christin, for all your persistence, patience and time spent with us! "
- Tracy Helm
" Selling your home can be a stressful experience but when we recently worked with Christin for the sale of our home, from start to finish she made it a stress-free and seamless experience! She went above and beyond to ensure we got top dollar for our home! We highly recommend Christin to all of our friends and family, without reservation! "
- Julie O'Driscoll
Previous
Next